Ponix MicroAg LLC was started in 2017, four years after construction of the first prototype pPod®, which was awarded a patent in 2019 (U.S. Patent No. 10,285,337). Since its conception, the pPod® has evolved through several iterations with 12 prototypes built and tested. Prototype pPods were used with tremendous success at 2 locations in New York City, including the WeWork/WeLive building at 110 Wall St, and 2 suburban locations in Atlanta.

Ponix MicroAg has its roots going back to 2002 when its founder, Chris Wark, established SHADE Consulting and Green Roof Innovations (GRI) with his wife Wendy, developing several innovative modular eco-roof systems. Many of the concepts developed during that time found their way into the pPod prototypes.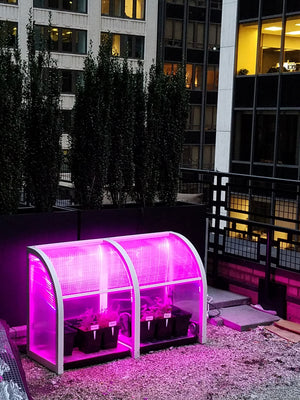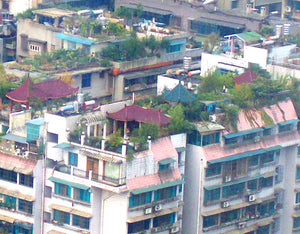 In 2009, Chris designed a modular planting system in partnership with Guiyang Chuangjia High-Tech Accelerator Co. LTD in Guiyang, China. In Guiyang, he saw how most of the apartment balconies and rooftops were filled with vegetable gardens. Growing your own food on a few square feet of elevated concrete was commonplace in this large and rapidly growing city. The idea of providing an improved environment for food production on balconies, terraces, and rooftops was a key aspect of this project and directly influenced the development of the pPods.
It was when Chris and Wendy moved to New York City later that year that the need to design and build a serious plant enclosure literally hit home. They had moved into a 35th floor apartment with a balcony overlooking the Hudson River. The view was stunning, but so was the wind which dehydrated plants during temperature extremes and damaged some of them during storms. That balcony became a test bed for cold frame and mini-greenhouse concepts leading to the pPod.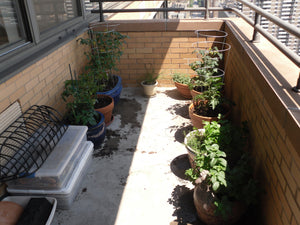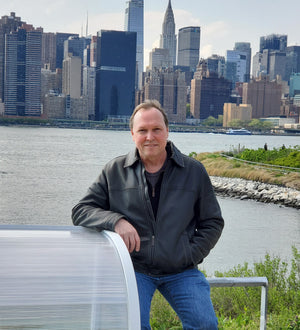 Chris has over 30 years of multidisciplinary engineering experience providing mechanical, analytical, and electronics support and services to manufacturers, universities and national labs. He holds Bachelor and Master of Science degrees in Mechanical Engineering (and minor in Materials Science) from Washington State University where his graduate work focused on thermodynamics, fluid dynamics and combustion.

Coming soon!
We are always working on new products to help grow more plants in more places. Here are a couple of examples:
The Alta pPod® - a 5 ft high pPod with a 3 ft x 3ft base designed to accommodate larger plants such as tomatoes, pole beans, and taller cannabis plants.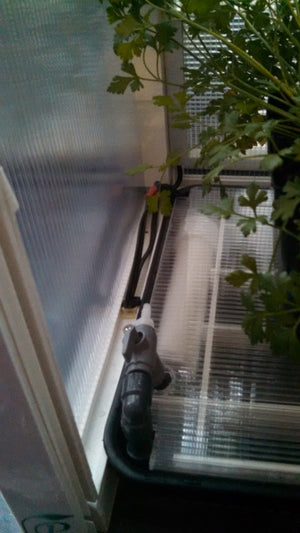 A heated irrigation system for year-round growing and as a foundation for hydroponic systems. The irrigation system circulates water at 78 degrees F through a tray beneath the plants for even temperature control and comes with a diversion valve that switches the circulating water to a drip watering system for greater irrigation control and convenience. This system is designed to keep a fully exposed pPod® from freezing with outdoor temperatures as low as 0 degrees F.