Fun at Martha's Vineyard Ag Fair 2023
We had a wonderful time at the Martha's Vineyard Agricultural Fair last month. Wendy and I loved meeting so many great people and making new friends! There was a lot of enthusiasm for pPods on the Vineyard where there are now 5 pPods including a Triple pPod® donated to the Island Grown Initiative.
We had fun getting interesting new application ideas for pPods, like providing a home for a champion pet hermit crab or creating a proper napping spot for a cat beneath a protected tray of herbs instead of on top of them.

Congratulations to our two pPod sweepstake winners, Walter Young of Framingham, MA (lower right) and Sara Dario of Edgartown, MA! We look forward to seeing how you use your pPods.
(August 23, 2023)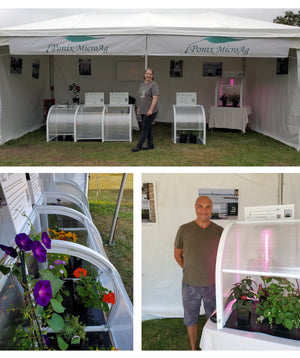 Meet Us At The Fair!
We are so excited to be part of the Martha's Vineyard Agricultural Fair for the first time this year!
The fair runs August 17–20 and is a big event in New England with 30,000 visitors each day.
Come visit us at the Ponix MicroAg Booth 19 where we will be demonstrating the many uses of the pPod®
(August 8, 2023)
pPods® at Green Bronx Machine
Chris Wark of Ponix MicroAg paid a visit to Stephen Ritz and Lizette Ritz of
Green Bronx Machine on June 3rd to deliver two pPods to their Learning Garden and classroom at CS – Community School 55.
Green Bronx Machine builds healthy, equitable, and resilient communities through inspired education, local food systems, and 21st Century workforce development.
Stephen is doing an amazing job teaching K-12 students how to grow and love plants! This is especially critical as kids who grow vegetables are more likely to eat a wider variety of vegetables.
Ponix MicroAg LLC is excited to partner with Green Bronx Machine by providing a Standard pPod® for the classroom (with a grow light kit) and a Double pPod® for their Learning Garden. The pPods will be used to facilitate each student's ability to start, grow and monitor their own individual plants in a protected environment.
The pPods located outside in the Learning Garden will also allow their growing season to extend throughout the school year by utilizing a pair of heat mats.
We cannot wait to see the amazing things that the students at Community School 55 grow in their pPods under the guidance of Stephen Ritz!
Green Bronx Machine addresses the issues of health and educational outcomes in all communities - including the most needy - across America. They cannot do it alone.
Please consider donating to Green Bronx Machine here:
donate.greenbronxmachine.org/campaign/grow-healthy-students/c313747
Get your Green Bronx Machine merch here: merch.greenbronxmachine.org/
(June 6, 2023)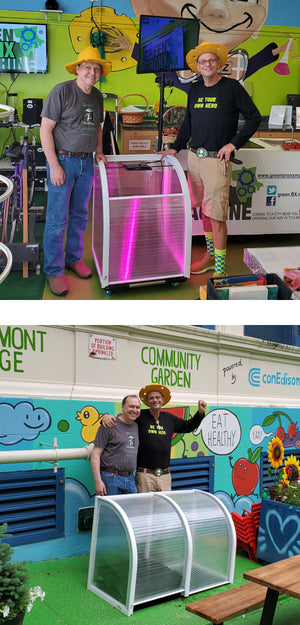 Grow It Everywhere!™, Part 2
Our traveling pPod® wound up in Long Island City for its 2nd stop. Had to check out the Manhattan skyline with some of the most iconic buildings in the world.
(May 4, 2023)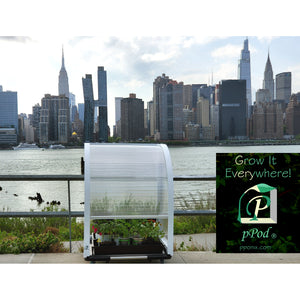 Grow It Everywhere!™
We took a pPod® out for a roll this week. Our first stop was Red Hook, Brooklyn to say hello to the Statue of Liberty. It's anyone's guess where the pPod will show up next.
(April 26, 2023)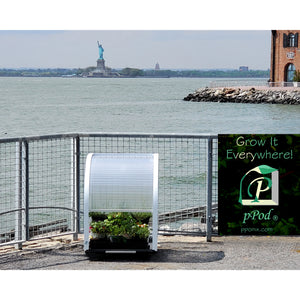 The pPod® goes out for dinner!
Our first culinary collaboration is with The Queensboro in Jackson Heights, Queens. Mike Fuquay, one of the restaurant's owners is seen here standing behind Chris. The Queensboro will grow a variety of plants in their new Triple pPod located in their outdoor dining cafe. Stay tuned for updates and pictures!
We are very grateful that this neighborhood gem survived the pandemic and continues to provide delicious American food in a welcoming environment and to be a community resource. Their food is inspired by Queens and their team's diverse experiences and cultures. Please visit for a wonderful experience!
(April 26, 2023)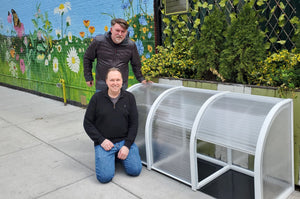 Accessorize!
We have expanded our product line, including accessories for the pPod®.
Details are available at : pponix.com/collections
(April 20, 2023)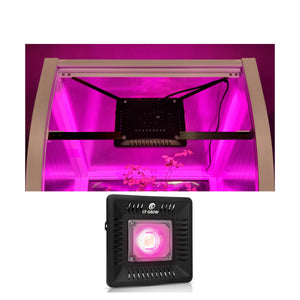 It's Official!
Our pPod® trademark is now officially registered.
(April 14, 2023)